USGS 3DEP Data Now Available to Academic Users in OpenTopography Pilot
The U.S. Geological Survey's (USGS) 3D Elevation Program (3DEP) is an ambitious effort to complete acquisition of nationwide lidar (IfSAR in AK) by 2023 to provide the first-ever national baseline of consistent high-resolution elevation data – both bare earth and 3D point clouds – collected in a timeframe of less than a decade. Since 2015, USGS and federal, state, local and non-government partners have collected over 2 million square miles of high resolution topography data, covering nearly 67% of the United States. Thanks to USGS efforts in the last year to migrate these data into the cloud, led by Hobu, Inc. and the U.S Army Corps of Engineers (USACE) Cold Regions Research and Engineering Laboratory (CRREL) in collaboration with AWS Public Dataset Program, OpenTopography is happy to announce a pilot project to make these exciting data available to our core US academic user community.
Starting today, registered OpenTopography users with an account associated with a valid .edu email address will be able to seamlessly discover, download, and process USGS 3DEP data via the standard OpenTopography interface. This new functionality opens up access to 948 new datasets, or nearly 11 trillion new lidar points (updated to 1080 datasets, ~14 trillion points on March 3, 2020), with additional data to be added in the near future. Consistent with OpenTopography's mission to make high resolution topography easier to discover and use, this new pilot adds value to 3DEP data by putting OpenTopography's on-demand processing tools for subsetting, gridding, download, visualization, and hydrologic terrain analysis on top of the point cloud data published in Amazon Web Services.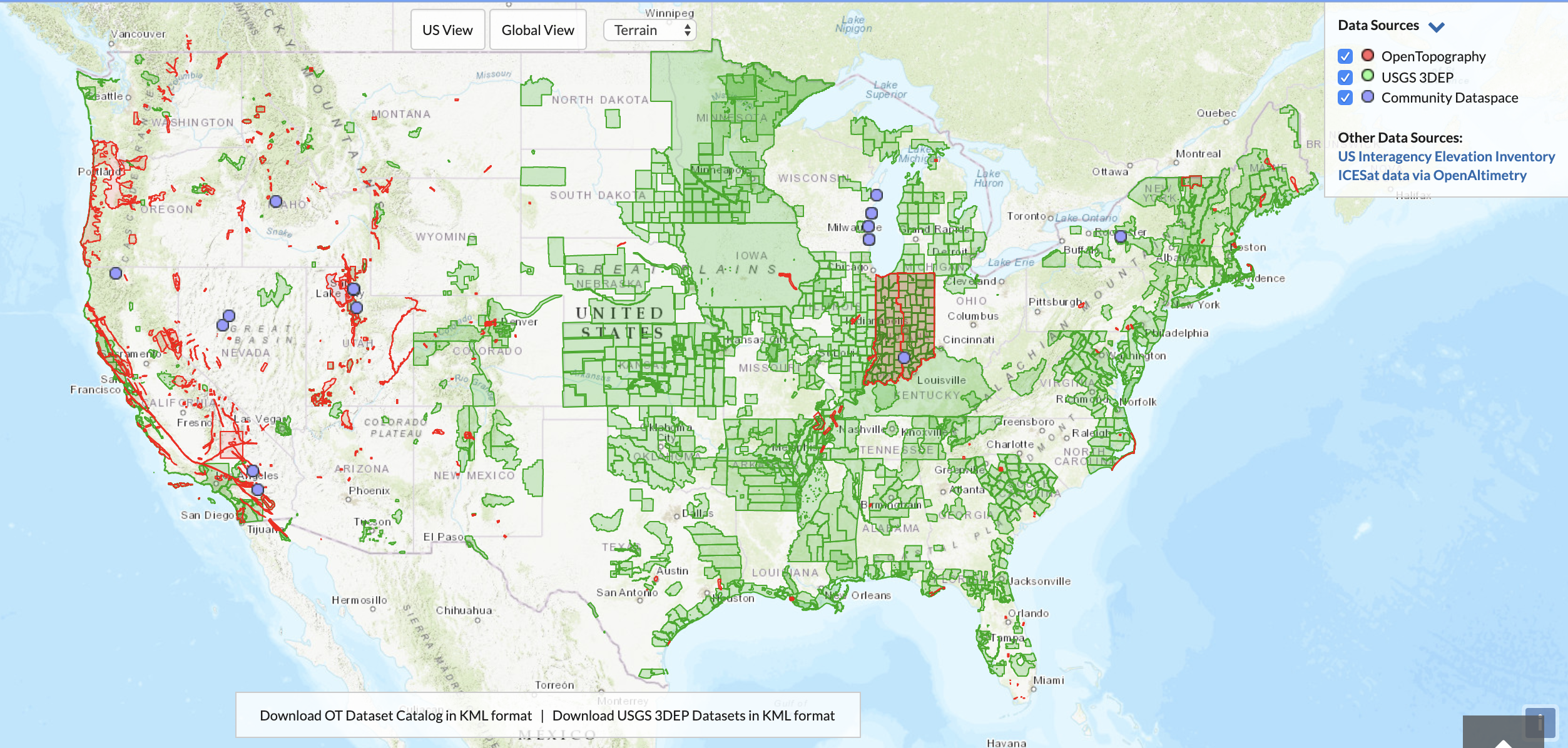 Map showing new USGS 3DEP coverage (green polygons) now available through OpenTopography.
We are initially restricting this pilot of USGS 3DEP data access via OpenTopography to our core academic user community (users with .edu email addresses), and are also applying a lower processing threshold (150 million points per job). OpenTopography is supported primarily by the U.S. National Science Foundation Division of Earth Sciences, and thus we're initially offering this new functionality for academic research and education only. During this pilot we intend to evaluate the broader demand for 3DEP data access via OpenTopography, to monitor scalability and performance, and to tackle factors related to the sustainability of offering this service to all OpenTopography users. It is our hope that we'll be able to offer OpenTopography access to USGS 3DEP data to all users in the near future, however the exact mechanism by which this happens is still under discussion by the OpenTopography team, our advisory committee, and our funders.
As always, if you have feedback on this new OpenTopography functionality we encourage you to contact us via email or to reach out via our social media channels.
Examples of USGS 3DEP datasets: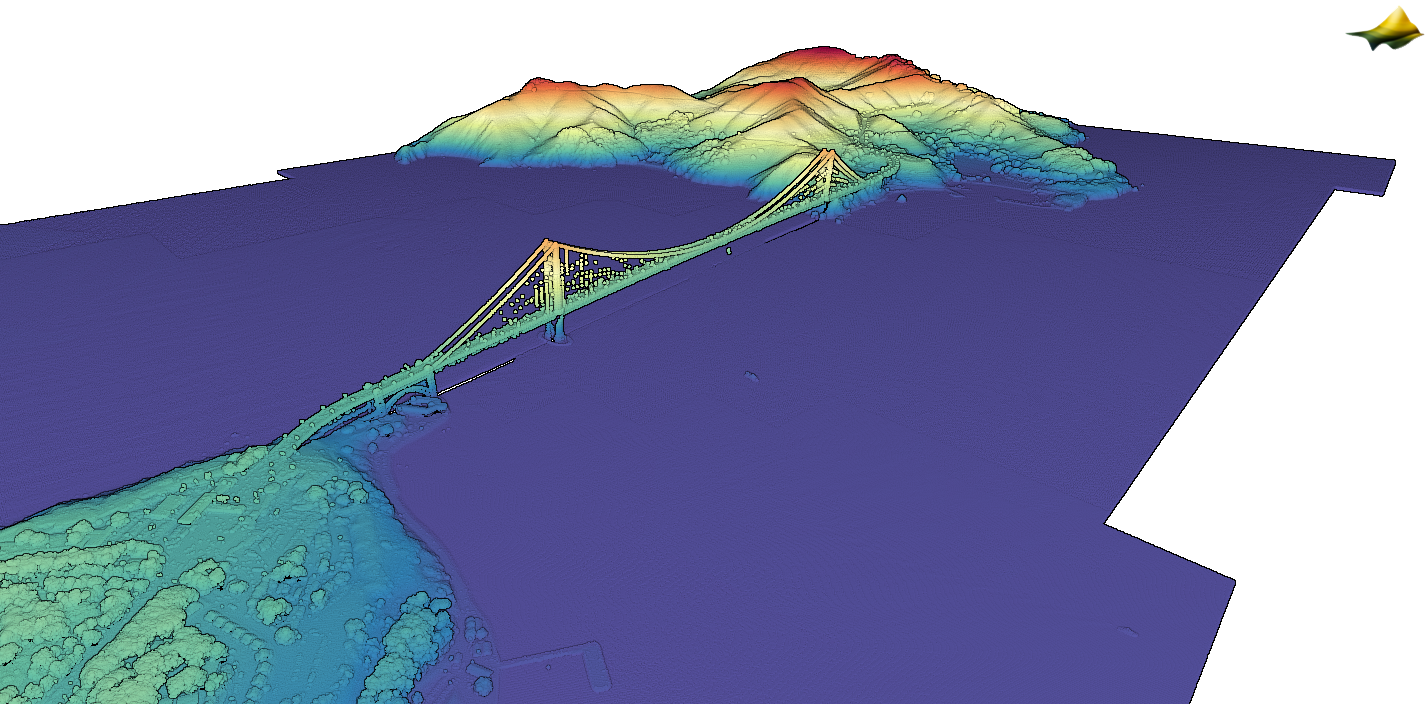 Golden Gate Bridge, San Francisco, CA. 3D lidar point cloud colored by elevation.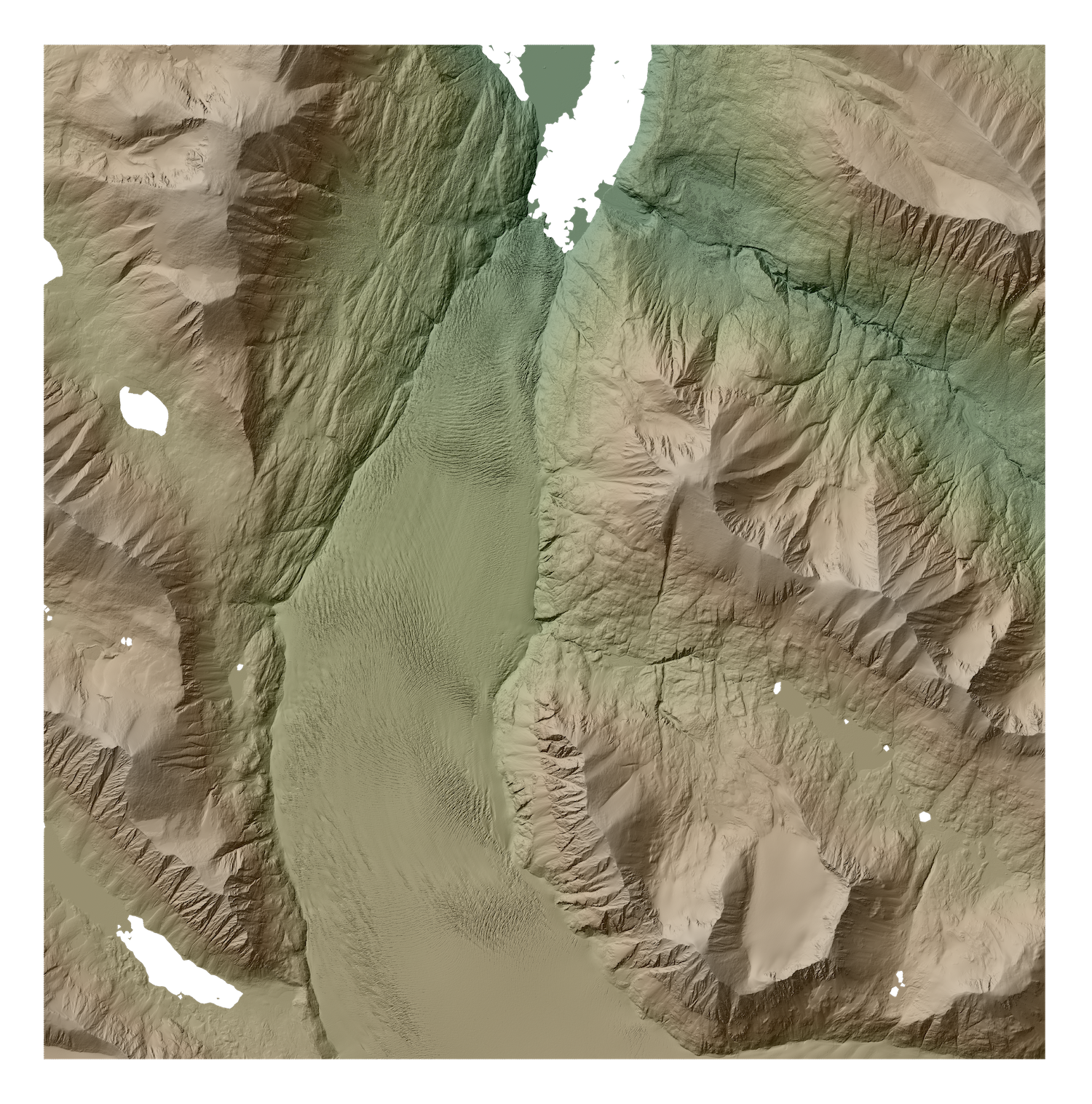 Skilak Glacier, Harding Icefield, Kenai Peninsula, Alaska. One meter resolution DSM hillshade.

National Mall in Washington, DC; Lincoln Memorial at left, Washington Monument at right. Lidar point cloud colored by intensity.