About
OpenTopography facilitates community access to high-resolution, Earth science-oriented, topography data, and related tools and resources.
The mission of the OpenTopography Facility is to:
Democratize online access to high-resolution (meter to sub-meter scale), Earth science-oriented, topography data acquired with lidar and other technologies.
Harness cutting edge cyberinfrastructure to provide Web service-based data access, processing, and analysis capabilities that are scalable, extensible, and innovative.
Promote discovery of data and software tools through community populated metadata catalogs.
Partner with public domain data holders to leverage OpenTopography infrastructure for data discovery, hosting and processing.
Provide professional training and expert guidance in data management, processing, and analysis.
Foster interaction and knowledge exchange in the Earth science lidar user community.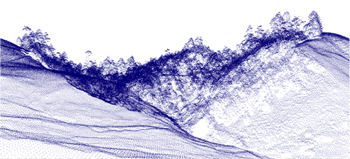 The OpenTopography Facility is based at the San Diego Supercomputer Center at the University of California, San Diego and is operated in collaboration with colleagues in the School of Earth and Space Exploration at Arizona State University and at EarthScope Consortium (formerly UNAVCO).
Core operational support for OpenTopography comes from the Geoinformatics and the Geomorphology and Land Use Dynamics programs in the Division of Earth Sciences at the National Science Foundation. OpenTopography was initially developed as a proof of concept cyberinfrastructure in the Earth sciences project as part of the NSF Information and Technology Research (ITR) program-funded Geoscience Network (GEON) project.
Motivations and Philosophy:
Over the past decade, there has been dramatic growth in the acquisition of publicly funded high-resolution topographic and bathymetric data for scientific, environmental, engineering and planning purposes. Because of the richness of these data sets, they are often extremely valuable beyond the application that drove their acquisition and thus are of interest to a large and varied user community. However, because of the large volumes of data produced by high-resolution mapping technologies such as lidar, it is often difficult to distribute these datasets. Furthermore, the data can be technically challenging to work with, requiring software and computing resources not readily available to many users. OpenTopography aims to democratize access to high-resolution topographic data in a manner that serves users with varied expertise, application domains, and computing resources.
OpenTopography data access levels:
Google Earth:
Google Earth provides an excellent platform to deliver lidar-derived visualizations for research, education, and outreach purposes. These files display full-resolution images derived from lidar in the Google Earth virtual globe. The virtual globe environment provides a freely available and easily navigated viewer and enables quick integration of the lidar visualizations with imagery, geographic layers, and other relevant data available in KML format.
Raster:
Pre-computed raster data include digital elevation model (DEM) layers computed from aerial lidar surveys and raster data from the Satellite Radar Topography Mission (SRTM) global dataset. DEMs from aerial lidar surveys are available as bare earth (ground), highest hit (first or all return), or intensity (strength of laser pulse) tiles. Some datasets also have orthophtotographs available. The DEMs are in common GIS formats (e.g. ESRI Arc Binary) and are compressed (zipped) to reduce their size.
Lidar point cloud data and on-demand processing:
This aspect of OpenTopography allows users to define an area of interest, as well as subset of the data (e.g. "ground returns only"), and then to download the results of this query in ASCII or LAS binary point cloud formats. Also available is the option to generate custom derivative products such as digital elevation models (DEMs) produced with user-defined resolution and algorithm parameters, and downloaded in a number of different file formats. The system will also generate geomorphic metrics such as hillshade and slope maps, and will dynamically generate visualizations of the data products for display in the web browser or Google Earth.
Data:
As an NSF-EAR-funded data facility, OpenTopography's primary emphasis is on Earth science-related, research-grade, topography and bathymetry data. The scope of data that falls within this domain is not specifically defined, and data priorities are dictated by feedback from the OpenTopography user community, as well as our Advisory Committee. For those data that OpenTopography does not have the resources to host, we encourage registration of these in our data catalog so that they are discoverable by the community.