OpenTopography Processing Limits Increased and User Access Levels Simplified
This week OpenTopography rolled out increased LiDAR point could processing limits and a simplified scheme of user access levels. OpenTopography is a authenticated system whereby users have certain privileges for data access, processing limits, and system features. User level is defined for each user and applied when the user is logged into OpenTopography. The new scheme simplifies users into three levels:
Guest Users: Access to 50 million points per job. No access to the customized myLiDARjobs which allows you to view all previously submitted jobs, monitor jobs that are currently running, and resubmit jobs.
Registered Users: Access to 100 million points per job and myLiDARjobs.
Power Users: Access to 150 million points per job and myLiDARjobs. Power User status requires completing a simple form to explain why you feel you need elevated data access privileges.
In order to make it clear what level of status users hold, and to simplify status increase requests, users will now see a myOpenTopo Authorization Status link on the myOpenTopo page when logged into OpenTopography. Following this link will take you to a page which shows your current status and provides a form to fill out if you wish to request an increase from Registered to Power User.
New myOpenTopo Authorization Status page: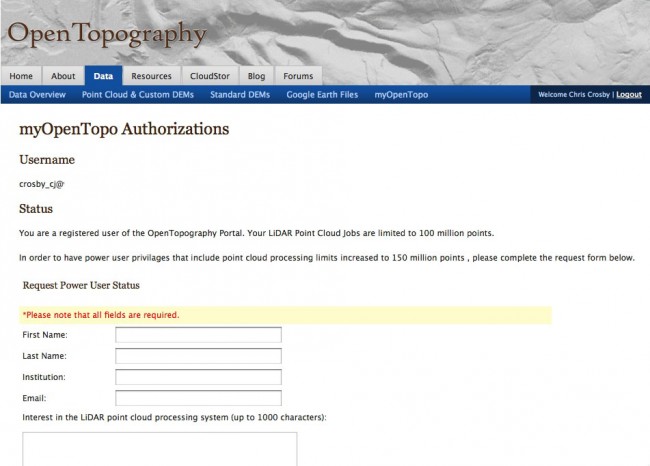 Questions or concerns can be addressed to: info@opentopography.org