New OpenTopography Feature: Bulk DEM Download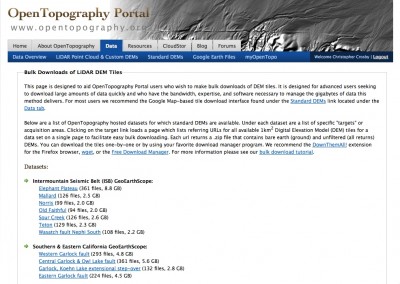 As of today, it is now possible to download standard LiDAR DEM tiles in bulk via the OpenTopography Portal. We have released a new bulk downloads of LiDAR DEM tiles page that makes this capability possible. This new feature of the OpenTopography Portal is a direct response to frequent requests from users for a less labor intensive method to download DEM tiles. Until today, users wishing to access a large number of DEM tiles were required to manually click and download each tile via our Google Maps-based Standard DEMs interface.
This feature of the OpenTopography Portal essentially presents the links to the DEM tiles hosted by OpenTopography in a manner that makes them more easily accessible in bulk. We recommend using freely available download manager software to simplify the process of downloading. The bulk download feature is designed for advanced users seeking to access large amounts of data quickly and who have the bandwidth, expertise, and software necessary to manage the gigabytes of data this method delivers. For most users we still recommend the Google Map-based tile download interface found under the Standard DEMs link located on the Data tab in the OpenTopography Portal.
We have produced a simple tutorial to guide users who wish to perform bulk downloads of data. As always, questions, technical difficulties, and other issues can be posted to the OpenTopography discussion forum or sent to help@opentopography.org