Napa Watershed LiDAR Data Available and OpenTopography v.2.1 Release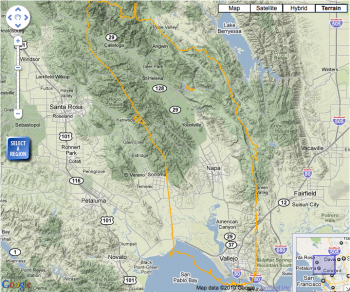 Napa Watershed Data Release:
OpenTopography is happy to announce that point cloud LiDAR data for the Napa Watershed in northern California is now available. The Napa data were collected in 2003 by the National Center for Airborne Laser Mapping (NCALM). This was one of the original NCALM data sets and digital elevation models derived from these data have been available via the NCALM Data Distribution Center for quite some time. However, this release of the data by OpenTopography marks the first time that the full Napa point cloud data set has been available for download. The Napa data set is approximately 2.1 billion LiDAR returns, bring OpenTopography's total LiDAR point cloud holdings to 37 billion points.
>> Go to the Napa Watershed LiDAR dataset
OpenTopography v 2.1 Release:
This week OpenTopography has also released another update to our system. This release is largely focused on back-end data management systems that are invisible to the user. However, OT 2.1 marks an important milestone for OpenTopography as the updates should significantly improve our ability to quickly ingest and make available new data sets. The Napa data set released this week was used to design and test this new data management system.
OpenTopography 2.1 Updates:
User Interface:
- Updated metadata description information on each dataset page
- Ability to download job metadata to file.
- Updated tooltips for easier access.
- Ability to edit LiDAR job's title after submission
- Minor bug fixes and interface tweaks.
System:
- New point cloud data ingestion and management system to enhance speed with which new data can be added to OpenTopography.
- Numerous updates to web services and related databases.