OpenTopography rides along on airborne lidar survey with NCALM
Nov 26, 2014
Recently, an OpenTopography team member had an opportunity to assist NCALM with their Seed grants campaign in October 2014. She was awarded a NCALM student Seed grant in winter 2014 and the data collection occurred in Fall 2014. This year's campaign included areas of Idaho, Montana, Colorado, California and Utah. Emily had a chance to assist with her own data collection with the NCALM team members in collecting two Seed datasets in Owen's Valley and the southern San Joaquin Valley.
We met at the Epic Jet center in Bakersfield California on a clear, warm Thursday, October 22, 2014. The airplane had just arrived from Wyoming where there was a slight delay. This airplane had been jumping all over the western US for the last week encountering some weather delays. Leading up to the trip, I experienced the anticipation of data collection and the reality of delays from weather, instrumentation and Canadian customs. This was the first campaign for the new laser scanner, which was built in Canada.
The Navajo Piper plane on the tarmac at Epic Jet Center, Bakersfield, CA
At approximately 10am, the Navajo piper took off from Bakersfield and headed northeast over Sequoia National Park and the Southern Sierra and into Owen's Valley. The plane tracked around from the high Sierra winds while I marveled at the 180 degree view of the Southern Sierra, Owens Valley and Inyo mountains: a veritable geologist's playground. We landed at the Bishop Airport around 11am to top off the plane and set up 2 GPS base station (1 second) for georeferencing with a close by Plate Boundary Observatory (PBO) GPS station.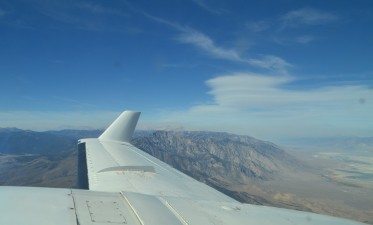 (left) GPS base station set-up at Bishop Airport. (right) Looking north along the Sierra Nevada front
The laser we were using is NCALM's brand new Optech Titan scanner. It contains 3 lasers: one is green which can be used for both shallow bathymetric and land surveys, one has the ability to take full waveform data, and one is a standard lidar sensor. A pre-planned survey flight path was generated to optimize data coverage for the area specified by the PI. Once the plane, laser, and laptop were running, we took off towards the edge of the Bishop Tuff. The survey was fairly simple, turning the laser on and off with different passing, checking optimum range, and monitoring laser function. We flew less of a lawnmower pattern and instead focused on being efficient in the air by going from line 1 to 7 to 3 and so on. We flew around the Owen's Valley ramping between the Sierra Nevada and the White Mountains fronts. Additionally, we flew 3 calibration lines for data processing and calibration. There is already some point cloud data on OpenTopography from this area.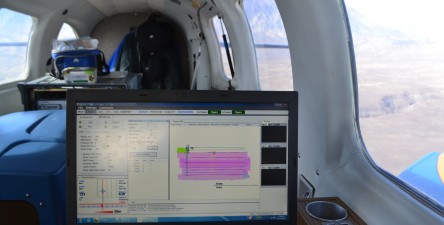 Layout and execution of the Bishop survey
After fueling up at Bishop, we flew back to Bakersfield to set up for the second survey at Wheeler Ridge. The process was essentially the same, except we flew round trip from Bakersfield. The second survey area had a bit more topography, so we had to adjust for range by decreasing the output laser frequency and adjusting our flying height for different survey lines. It was a long but fun day observing and participating in lidar data collection with NCALM. Thanks to the NCALM team for a great day! -Emily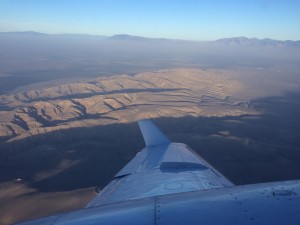 Long shadows as we take a last line on Wheeler Ridge, looking east