Reprocessed version of the B4 Lidar - Southern San Andreas and San Jacinto Faults - Dataset Released
OpenTopography is pleased to announce the release of a reprocessed version of the "B4" lidar dataset covering the southern San Andreas and San Jacinto faults in California, USA, that enables differentiation between bare ground surfaces and the objects and vegetation above the surface. Since they were originally released in 2005 these data have provided a fundamental resource for the study of active faulting in southern California. This reprocessed dataset includes "classified" (according to ASPRS standards) lidar point cloud data as well as pre-computed half-meter resolution "bare-earth" digital elevation models (a.k.a. digital terrain model - DTM), and one-meter resolution "full-feature" digital elevation models (a.k.a. digital surface model - DSM). The reprocessing of the 2005 B4 dataset was performed by Dr. Stephen B DeLong, USGS Earthquake Hazards Program, as a service to the community. The original B4 Lidar data acquisition and processing were performed by the National Center for Airborne Laser Mapping (NCALM) in partnership with the USGS and Ohio State University through funding from the EAR Geophysics program at the National Science Foundation (NSF). A group of volunteers from USGS, UCSD, UCLA, Caltech, and private industry, as well as gracious landowners along the fault zones, also made the project possible. The data available here were originally published on the USGS ScienceBase website as Classified point cloud and gridded elevation data from the 2005 B4 Lidar Project, southern California, USA.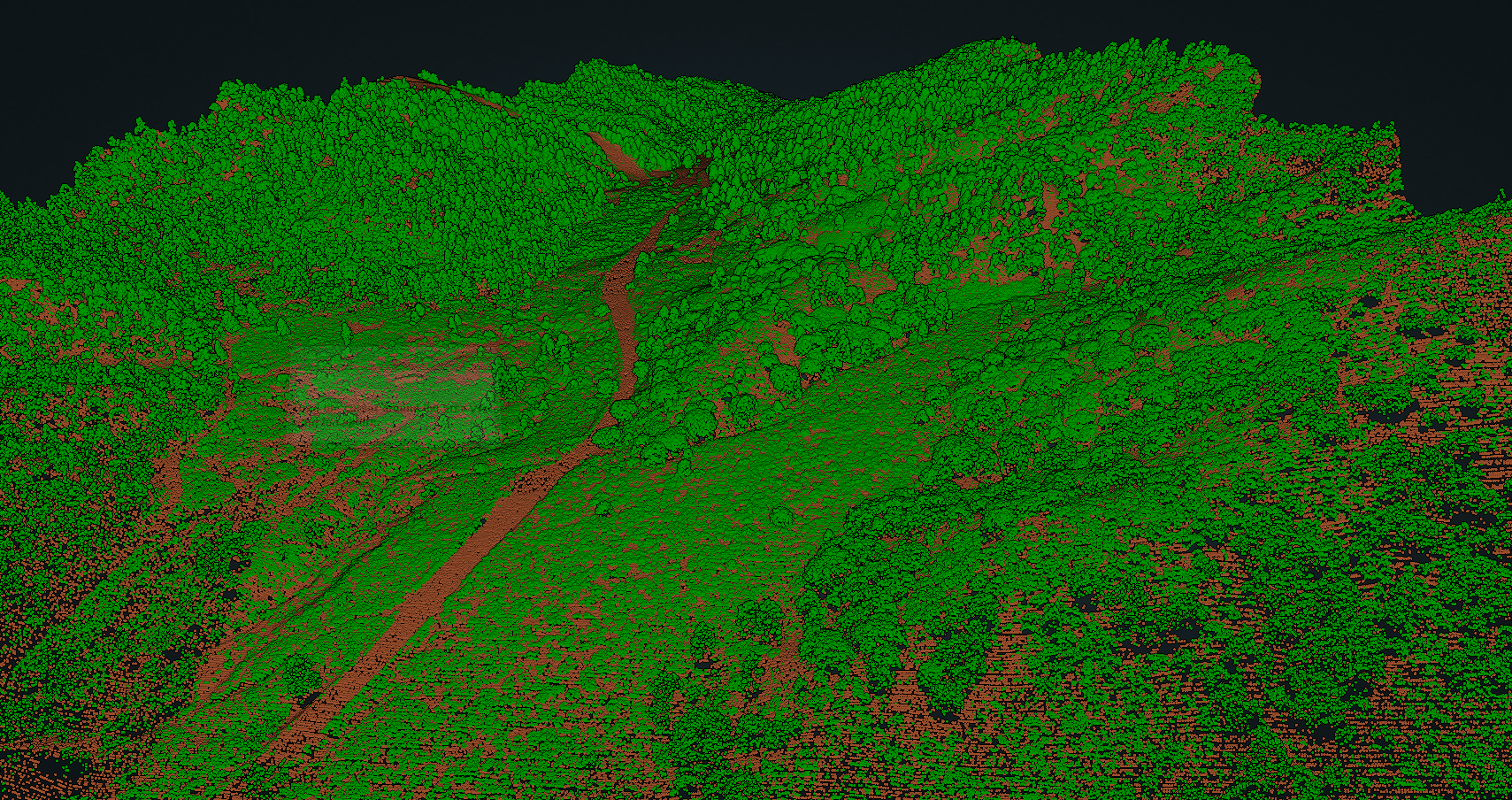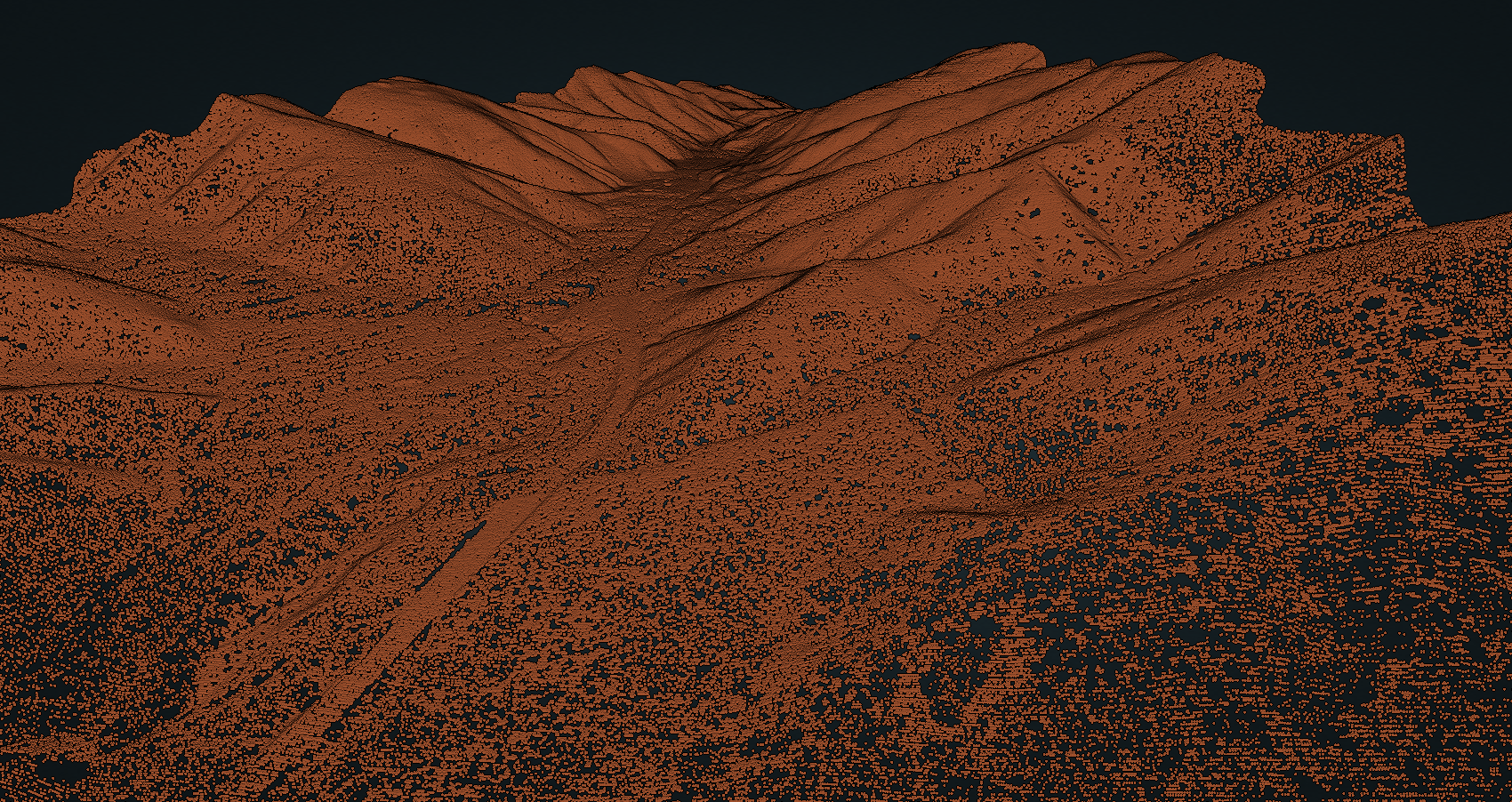 Images illustrating newly available high vegetation point cloud classification from recent reprocessing of B4 Project - Southern San Andreas and San Jacinto Faults - Classified Lidar, made with OT's browser-based 3D visualization tool. Reprocessing enables differentiation between the bare ground surface and the objects and vegetation layers above the ground. Images illustrate the difference between visible forest cover in the San Gabriel Mountains along the southern San Andreas fault near Wrightwood, California, left image, and only bare ground, right image.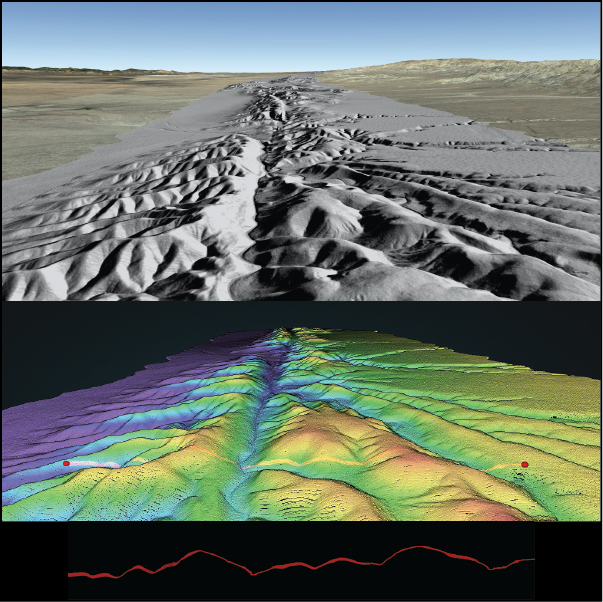 Illustrations of the southern San Andreas Fault from B4 Project - Southern San Andreas and San Jacinto Faults - Classified Lidar, created through OT's visualization tools. Image, top, shows a northerly view of a Digital Surface Model (DSM) grayscale hillshade KML draped over the surface of Google Earth. The middle image shows the same view as a point cloud visualization, colored by elevation; the line between the two red dots indicates a profile shown in the bottom image. The San Andreas fault is clearly visible as a linear depression in the near-center of each perspective image.