OpenTopography Awarded 2023 AGU Open Science Recognition Prize
OpenTopography, a National Science Foundation (NSF)-funded data facility operated collaboratively between the San Diego Supercomputer Center (SDSC) at University of California San Diego, EarthScope Consortium, and Arizona State University (ASU), has been selected to receive the inaugural Open Science Recognition Prize from the American Geophysical Union (AGU).
Open Science, according to UNESCO, is "an inclusive construct that combines various movements and practices aiming to make multilingual scientific knowledge openly available, accessible and reusable for everyone, to increase scientific collaborations and sharing of information for the benefits of science and society, and to open the processes of scientific knowledge creation, evaluation and communication to societal actors beyond the traditional scientific community."
The AGU recognition prize is awarded to a person or team for outstanding work in advancing Open Science related to Earth and space science and its impact globally. The OpenTopography principal investigators Viswanath Nandigam (SDSC), Christopher Crosby (EarthScope), Chelsea Scott and Ramon Arrowsmith (ASU) are recognized by the global Earth and space sciences community for their outstanding contributions in cyberinfrastructure, data management, training and outreach associated with open access high resolution topography.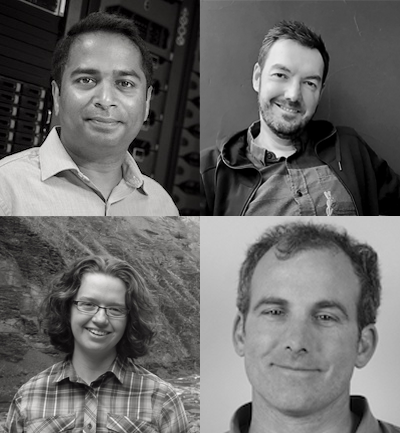 Open Science Recognition Prize winners are chosen from nominations across the Earth and space science community for individuals or teams that advance Open Science through creation or use of open data, software and other open results. AGU, the world's largest Earth and space science association, annually recognizes a select number of individuals for its highest honors. Each recipient embodies the AGU community's shared vision of a thriving, sustainable and equitable future powered by discovery, innovation and action. According to AGU, these recipients have worked with integrity, respect and collaboration while creating deep engagement in education, diversity and outreach.
"This award is a tremendous recognition of the team who has built and maintained OpenTopography over the last 15 years. Credit is due to our advisory committee members past and present, as well as our funders, especially the National Science Foundation," said Nandigam. "And most importantly, it honors the trust of our partners and the vast community of users who rely on us to make available topographic data, data products and knowledge about those products and their applications open."
Since 2008 when it was founded, OpenTopography has been focused on facilitating efficient access to topography data, tools and resources to advance understanding of the Earth's surface, vegetation and built environment.
According to Arrowsmith, topography of the Earth's surface is a fundamental geomorphic and geophysical observable, marking the boundary across which the lithosphere, hydrosphere, biosphere and atmosphere interact. "These data are essential to the Earth sciences, and OpenTopography democratizes access to the data, tools and knowledge resources necessary to fully utilize the data in research and education," he said.
Crosby noted that it has been exceptionally rewarding to watch OpenTopography's user community grow and diversify as the system has become the most comprehensive source of topographic data on the internet. "OpenTopography's impact on research and education have been large, but the system is also regularly used by industry, governments and hobbyists from around the world," he said.
"This Open Science prize acknowledges the global impact of open data and an OpenTopography platform that makes these data easy to access and use regardless of computing resources and specialized skills," Scott added.
The SDSC, EarthScope and ASU winners said that the AGU Open Science award would not have been achievable without the unwavering dedication and collective efforts of every member on the OpenTopography team, including Matthew Beckley, Minh Phan, Kai Lin, Emily Zawacki and Kate Kaya, as well as multiple past team members and interns.
AGU will formally recognize this year's recipients at AGU23, which will convene more than 25,000 attendees from over 100 countries in San Francisco and online everywhere between Dec. 11 and 15, 2023. The celebration is a chance for AGU's community to recognize the outstanding work of its colleagues and be inspired by their accomplishments and stories.
AGU (www.agu.org) is a global community supporting more than half a million advocates and professionals in the Earth and space sciences. Through broad and inclusive partnerships, AGU aims to advance discovery and solution science that accelerate knowledge and create solutions that are ethical, unbiased and respectful of communities and their values. Our programs include serving as a scholarly publisher, convening virtual and in-person events and providing career support. We live our values in everything we do, such as our net zero energy renovated building in Washington, D.C. and our Ethics and Equity Center, which fosters a diverse and inclusive geoscience community to ensure responsible conduct.
The San Diego Supercomputer Center (SDSC) at UC San Diego is a leader in high-performance and data-intensive computing and cyberinfrastructure. SDSC provides resources, services and expertise to the local, regional and national research community, including industry and academia. It supports hundreds of multidisciplinary programs spanning a wide variety of domains.
EarthScope Consortium is a university consortium dedicated to supporting transformative global geophysical research and education. Our vision is an engaged society, resilient to geohazards, informed by geophysical discovery and global collaboration. EarthScope Consortium operates the U.S. National Science Foundation's facilities for geodesy and seismology, the GAGE and SAGE facilities.
Arizona State University, ranked the No. 1 "Most Innovative School" in the nation by U.S. News & World Report for eight years in succession, has forged the model for a New American University by operating on the principles that learning is a personal and original journey for each student; that they thrive on experience and that the process of discovery cannot be bound by traditional academic disciplines. Through innovation and a commitment to accessibility, ASU has drawn pioneering researchers to its faculty even as it expands opportunities for qualified students.