New datasets available in California, Montana, Wyoming, and more
Over the past several months OpenTopography has released eight new datasets. Six of these datasets were collected by the National Center for Airborne Laser Mapping (NCALM) as part of their seed grant program. NCALM is an NSF-funded center that supports the use of airborne laser mapping technology (a.k.a. lidar) in the scientific community and is jointly operated by the Department of Civil & Environmental Engineering, Cullen College of Engineering, University of Houston and the Department of Earth and Planetary Science, University of California, Berkeley. The release of these data via OpenTopography is the product of a memorandum of understanding (MOU) between OpenTopography and NCALM to make OT the primary distribution pathway for NCALM data.
NCALM Seed Grant Datasets
Hebgen Lake, located northwest of Yellowstone National Park, was the site of a disastrous 7.3 magnitude earthquake in 1959. The earthquake triggered a massive and deadly landslide, damming a river and creating a new lake, now called Quake Lake. It is also said to have caused the creation of new geysers in Yellowstone. The 1959 Hebgen Lake rupture (Montana) dataset was produced as part of an NCALM seed grant to study the degradation of the fault scarp left by the earthquake.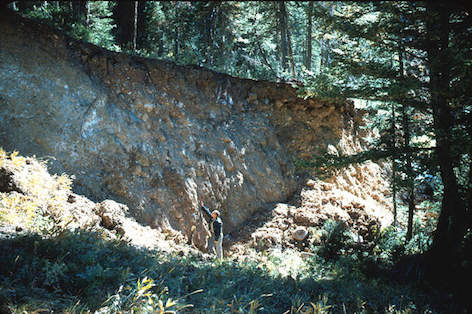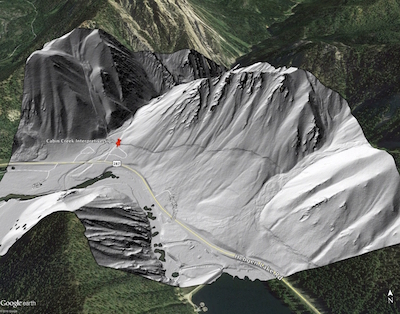 On left, a photo from the USGS Library of the fault scarp near Hebgen Lake following the earthquake. On the right, an oblique view of a Google Earth image overlaid with lidar derived ground hillshade, looking north. The fault scarp is clearly visible, 55 years after the earthquake. The red pin indicates the location of an interpretive panel describing a campsite at the Cabin Creek Campground that was split in two, leaving the site's fire ring 20 feet below the picnic table. A photo of the panel text, plus a photo of the panel with the scarp in the background is available here.
Calhoun Critical Zone Observatory An additional survey was conducted by NCALM at the Calhoun Critical Zone Observatory. This is the latest in a series of Critical Zone Observatory (CZO) datasets to be hosted at OT, covering seven CZOs.
Snake River, Wyoming Dataset Last, we are now hosting a dataset contracted by the Teton Conservation District along the Snake River. OpenTopography has an MOU with Teton Conservation District for hosting of these 2008 Snake River data, and an associated 2008 dataset covering the Snake River Range and the Teton National Forest.